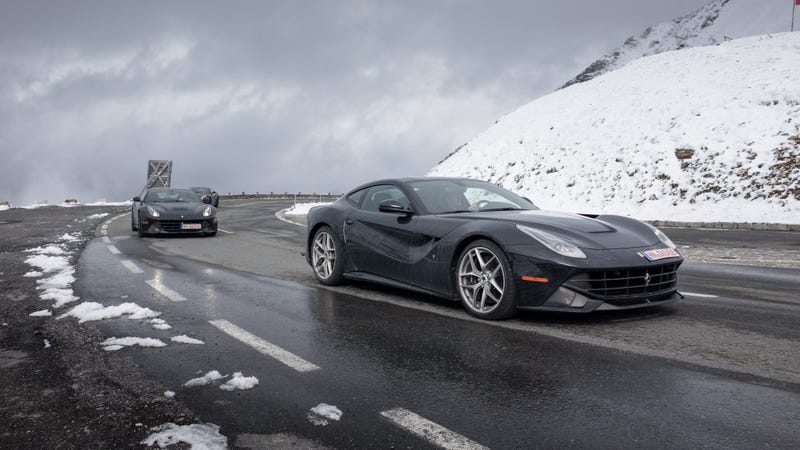 Today, I was on the Grossglockner High Alpine Road and there was all kinds of manufacturer testing going on. First those three Ferrari F12 passed by me. They have German number plates, with red text beginning with the number code 06, meaning that they are registered for testing purposes.
Notice the weird plumbing at the rear?
We passed some VAG cars, one was a camouflaged mid-size SUV, to me it looked like it could have been an new Audi A5, but who knows. I didn't take a pic because personally, I'm not that interested in SUVs.
Other models were around as well, including Seat Leon Cupra ST, some Volkswagen Golfs, some Audis...
Some of the cars had some kind of sensor in the middle of each rim, guys with laptops were standing next to the cars.

About an hour later I nearly ignored this Audi R8, but then I saw that it had a cable attached to it. That seemed strange to me for this type of car. So I decided to take some pictures.
If you zoom in at 100%, you can see that the Q7 is badged "45 e-tron".
I've uploaded the photos in 4K resolution for your optimum viewing purposes.
And here as a bonus, another unreleased model, destined not to contribute to the thick smog that is enveloping Chinese cities. At least not directly with it's own engine, but the electricity has to come from somewhere, and in china that means mostly from power plants that burn coal.
I hope you enjoyed the photos. All those surprises made my day.